Commercial Pest Control Services for Schools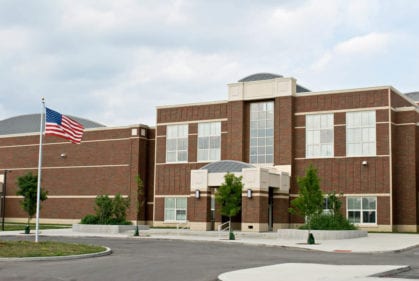 Creating and maintaining a safe, clean environment for our children to learn and play in is a high priority for everyone. That's why SafeHaven Pest Control has provided school pest control service to many of the major school districts in the Dallas-Ft. Worth Metroplex. Safety and protection are what we are all about at SafeHaven.
SafeHaven has kept Dallas Ft. Worth area schools of all sizes pest free for many years. We do that by customizing our pest control program to meet each individual customer's unique needs. Whether your school fits in one room or comprises a sprawling campus, we can provide a tailored school pest control program to keep handle everything from Ants to Zipper spiders, and everything in between.
Commercial Pest Control – Customized for Your Business
Pests can be a real problem for all commercial businesses.
No matter what kind of business you operate, if your building has any openings to the outside, there will always be some form of pest that will try to break in. If they succeed in breaking, your business could be in legal and financial peril.
Business owners know that getting ahead of a problem is always smarter than waiting to deal with it later. To best protect your business, you'll want a partner that understands how to handle every kind of pest, no matter how big or how small.
SafeHaven Pest Control understands that businesses rely on people they can trust to get the job done. SafeHaven Pest Control offers customized commercial pest treatment services to help manage all kinds of pest issues, including:
Get in touch with us today for a quick quote.
Why You Need SafeHaven Commercial Pest Removal Services
With over 67 years of continuous commercial pest control operations, SafeHaven has the knowledge and specialized training to effectively detect nests and hotspots to get rid of the problem as soon as possible.
Identifying pest nests can be tricky, particularly for people who don't have the proper training. Most times, nests have already been well established by the time a person begins to notice that there even is a problem. The experts at SafeHaven Pest Control can help you and your business stay ahead of your pest challenges and find peace of mind in knowing that all potential threats are curbed and monitored.
Our experts specialize in commercial pest treatment and removal, and they also incorporate various integrated pest management techniques when caring for your property. Using the best techniques in the industry, our experts are committed to commercial pest control and prevention and employ organic pesticides when necessary. Our techniques guarantee the removal of present pests and aim to stop any future invasions.
Want to eradicate pest infestation? Contact us today!
Who Is Best Suited for This Service?
We tailor our services to fit the needs of various commercial institutions. Some industries we serve include:
Schools

and daycare facilities
Retail, shopping, and commercial business centers
Foodservice, hotels, and restaurants
Commercial real estate projects
Airports
Banks
Churches
Manufacturing and warehouses
Offices and buildings

under construction
Our use of organic commercial pest treatment procedures ensure that we provide you with excellent service, while minimizing the risk of negative side effects due to chemical use. SafeHaven's approach relies on natural and green methods to get pest problems under control and eliminate them with minimal fuss.
It doesn't matter the size or complexity of your operation. Contact us today and we'll come up with a surefire plan to tackle the issue.
What Should You Expect from Our Services?
It is our policy at SafeHaven to take a comprehensive approach towards recognizing the problem, proposing a commercial pest control solution, and applying it. This approach ensures that we do a thorough job, so that the only time you get in touch with us is for periodic check ups.
Here is how we get the job done:
We will inspect your property for pests and structural weaknesses that other pests may exploit.
Next, we propose a plan of how to eliminate the current pests and improve anti-pest defenses. At this point, one of our pest removal experts will provide a quote for the work.
Once you are satisfied with our plan of action, we set up a date to get the work done.
On the day of the job, the main task will be to spray our organic pesticide around the necessary areas. We may also set traps and other tools to catch or scare away certain pests.
Why Should You Choose Us?
We have experienced technicians: Though you may have the best tools, it takes the hands of an experienced technician to know how and when to use them.
We develop specialized plans: Your premises are arranged as they are for a reason, and it can be quite a pain to move things around just to eradicate pests. When we devise an attack strategy, we ensure your premises remain undisturbed.
We are on time and flexible: Your schedule is important to you. That is why we work around the clock to ensure that you are able to meet your business obligations, while we get rid of the pests.
We are affordable: Commercial pest control companies aren't always pocket-friendly, but they should be. Throughout our 67 years of existence, SafeHaven Pest Control has always believed in providing quality services at affordable rates.
Where Do You Start?
At SafeHaven Pest Control, we pride ourselves on having over 67 years of experience in commercial pest removal. We are a family-run company that uses state-of-the-art commercial pest removal tools and techniques. Our goal is your peace of mind.
To start your commercial pest treatment contact us today.
Green Commercial Pest Control
While the traditional pest control service is always available, most schools prefer to use SafeHaven's Green Pest Control for Schools. This program is a low-toxicity, environmentally sensitive pest care approach that is based upon the principles of Integrated Pest Management.
Integrated Pest Management programs seek to identify pest problems very early on with frequent monitoring, particularly of high-risk areas of the school campus. At the first indication that pests are present, low toxicity treatments are applied. Further infestations are prevented by removing the pests' access to shelter, food, and water. Ongoing monitoring continues, and additional treatments are applied in very early stages, in many cases before pests become noticeable.
With SafeHaven's green pest control service for schools, parents and teachers alike can rest easy knowing that their school is protected from pests with environmentally sound, low-impact methods.
Current Clients:
Arlington ISD
Wes Brown, IPM Coordinator
Keller ISD
Justin Price, IPM Coordinator
Sherman ISD
Charles Adams, IPM Coordinator
Private Schools
Spanish House
Prospect Campus, East Grand Campus, N. Peak Campus, Skillman Campus
Lakehill Preparatory School
Westwood School